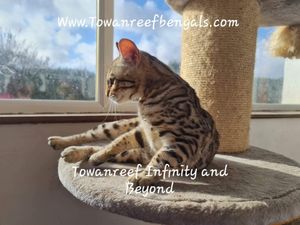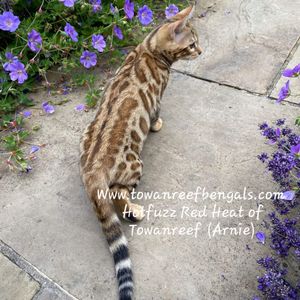 NEW STUD HAS ARRIVED
DETAILS TO FOLLOW SOON
Listed below is Towanreef Bengals reference stud cats
.   
Listed below are the boys i have had during my time as a breeder.  Each boy has left a last impression on my cattery with their own vision of how a bengal should be. 

Storm has produced my first homebred girls who helped to make Towanreef Bengals what they are today. Lily, Poppy and Luna were my first home bred girls.

Fearghus suffered a strangled testicle (Sept 2011) and had to be neutered after only one litter, his daughters Rowan and Berry will carry on his line.

Prince hated being a stud cat and sired only two litters here.  He is now retired and enjoying being a pampered pet. We kept his daughter Io.

Hamish,  well to sum it up .... I just loved this boy.  Didn't want to retire him ... sweetest boy who produced the most fantastic kittens.   We have quite a few Hamish daughters here,  Kayla, Dumpling, Cookie, Elara, Neera, Summer, Winter and of course Lava's daughter Sorsha . 

Murtagh leaves behind 3 daughters in my cattery,  Demi, Willow and Pandora.
Mac was one in a million.  I just loved this boy and really never wanted to retire him.  Sweetest boy who loves his tummy rubs who produced the most stunning babies with my girls.  Mac leaves 3 daughters here, Lumi, Kara and Moon. Plus two grand daughters Peanut and Nutella.
Amuary is our cashmere boy who started off of cashmere breeding program here.  He is a very sweet soppy boy who brought of great qualities to my bengals and cashmere breeding programs.  He leaves behind here quite a few daughters, lol..... Mini, Dream, Fruits, Rain, Daryla, and Deja.
Mozzy retired the end of 2020.  He has left me his wonderful son Freddie to continue thinngs here , along with a couple of girls. Mozzy is enjoying retired life to the full and has his new mum and dad totally under his paw.  
One of the hardest things Ive had to do in my breeding program is retire a boy as he was not enjoying being a stud.  Jean-luc is now retired and enjoyed being spoiled by his forever mummy who gives me regular updates.  Jean-luc has left several daughters here to carry on his line.
Gio retired December 2021.  I was sadly mis sold him as a seal lynx boy and he is a silver seal lynx.  i have kept a few keepers from him so i can remove the silver gene from my cattery.  He is now away being totally spoiled as a lovely pet. 
Yuri is now retired and enjoying life as a spoiled pet in the best home I could ask for him.   Sadly he had very low fertility and we decided to retire him.   Sadly no keepers from him  😢 

I have also added two boys who are very special and leave a huge hole in my heart, Rannoch and Dougal.   Sadly both boys passed away in 2016.