Welcome to Towanreef Bengals and Cashmeres
We are breeders in rural Aberdeenshire, Scotland in the UK producing quality kittens raised in our family home.  We breed brown and snow (lynx, mink and sepia) bengals.  We are the only breeder in Scotland with a dedicated cashmere/long haired bengal breeding program.  All our kittens are well socialised bundles of love for you to take home to their forever home. 
 
TOWANREEF BENGAL AND CASHMERE CAT NEWS
24th September 2023
Hello from me at Towanreef Bengals and of course all the kittens and cats here too.  I update my news here often with things that are happening in our household. We also have a facebook page called TOWANREEF BENGALS AND CASHMERES which I update regularly with photos (click on the facebook sign below to go to my page). 
We have moved house in 2020 but are still in rural Aberdeenshire.   We have very slow internet at the new house.  Photos are videos are taking hours to load, lol.  But I will do my best to get photos on the website.  Customers can get videos sent through whats app instead.  Please feel free to ask for more photos or videos as i am limited what i can load onto my website with my rural internet.  I use WhatsApp with clients with great success and find that the way forward to deal with my poor internet.
Thera x Tariq have kittens.  Now reserved. Meea x Arnie have kittens. Now reserved. Carri x Arnie have kittens. Now reserved.
All these kittens were reserved from my waiting list before they got to my website.   
If interested in future litters, please get in touch to be added to my waiting list.
 I have a priority waiting list and a standard waiting list.  The priority waiting list you pay a the standard £250 deposit to go on the waiting list.  This deposit will be taken of the final price of your kitten and you will be offered kittens first.  The standard waiting list is the non-deposit waiting list.  The priority waiting list will be offered kittens before the standard waiting list.  
You can contact me through my contact us page.   If you are interested in knowing a bit more about bengals and general information from us and more about our kittens, please look at our FAQs page and the information section of my website, thanks.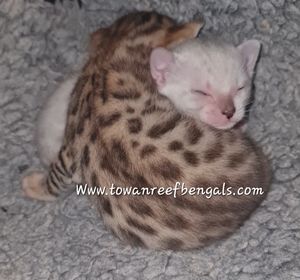 Web site last update 24th September 2023 by Tracey
Hit Counter (added nov 2010, when i started to do my own website)
You are visitor number: 96707